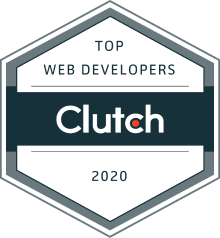 Our team is privileged to announce that we've received a Clutch award for our technological services this year in Ukraine. We'd like to dedicate this award to our amazing clients that have left us feedback on Clutch's site. Clutch, the B2B ratings and reviews platform categorizes companies based on their client feedback and we're happy our clients are proud of our work.
"Needless to say that we are proud to be recognized with this award from Clutch
and poised to step onto a higher level of a relationship with our current and potential clients."

- DevHired's CEO, Michael Fedorov.

DevHired has started in 2011 by getting various small projects from freelancing platforms oDesk and Elance (now UpWork). Now, the core business of the company is to deliver software development services to small and medium-sized businesses, SAAS projects and startups.
We have a solution based on Kubernetes technology to build SAAS systems that makes product delivery faster and cost-effective for consumers.
The company is an official R&D provider for QuickSilk as well as an official reseller of the QuickSilk product - a fully hosted SaaS content management system.
With the main office located in Ukraine, the company established the Sales Representative office in Germany and has successfully operated it through since 2015.
As a result of Clutch's review, DevHired has been listed in various locations and categories such as "Top Berlin IT services company" and "Top Web Developers in Germany". In turn, the company appreciates its presence in the listings and trusts it will facilitate further expansion of business in Europe and search for new clients.
Clutch relies on honest, verified feedback from our past clients and they use this information to decide where we line up with other companies in the region.
"They're incredibly easy to work with,
and they grasp concepts immediately."

founder of beauty company, New Jersey"
You can see more information about our company on The Manifest - a site that holds objective, verified research on the development industry. Another site, Visual Objects, provides the company's resources in Ukraine and its corresponding portfolio.
Send us a note if you're interested in a partnership with DevHired!